19 May

Ask The Expert: Pilates Rehab for Hip Replacement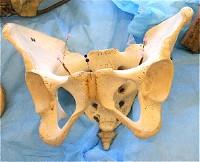 Fearful to work with a client that has had a hip replacement? Empower yourself and update your Pilates repertoire with this interactive workshop on hip replacement recovery taught by Kinected co-founder Matt McCulloch and Elliot Fishbein, a physical therapist with 12 years of experience and treatment of hip replacement patients. Elliot will take you through anatomy, pathology and dysfunctions that lead to hip replacement surgery and will update your knowledge of surgical techniques and the ideal PT protocols for recovery. Learn from Matt how to put this newly honed clinical knowledge to use with specifically modified Pilates mat and equipment exercises designed to assess, restore and maintain hip strength, mobility, and function. This is your chance to "ask the expert" about the latest research, treatment, and protocols and keep your clients injury free!
In this workshop, you will learn:

Conditions leading to the need for hip replacement
Precautions for working with clients after hip replacement
Different surgical procedures and how they impact exercise programming
Reasons to refer your client back to the doctor
What to consider when transitioning a patient from PT to Pilates

Pilates choreography contraindicated for hip replacement clients

Non-equipment based evaluation exercises and mat-based exercises to use throughout different stages of recovery

Global programming for the hip replacement client

Modified exercises of varying difficulty levels for the hip replacement client

Get your spot & ask the experts on Saturday, 6/20, 9:00am to 2:00pm!